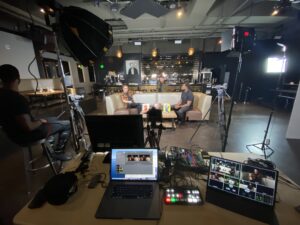 It takes more than just pulling out your phone and hitting "broadcast" for live streaming to positively impact your business. In this article, we will discuss some tips for planning and executing a successful livestream that will give you the results you are after.
Live Streaming Is Here To Stay
Virtual events have become the norm and likely aren't just a passing pandemic-induced trend.
With their ability to cut many of the costs associated with traditional events, virtual events and hybrid events have earned a rightful place in our organizations' digital strategies. Live streaming has become a leading way to expand your reach and make your content accessible to brand new audiences. Not only do they have the ability to reduce harmful emissions, but they also have the ability to engage your audience and show that a successful live streamed event is more about people and less about tech.
Here are some of the key ways live-streaming can make your next event a roaring success:
More attendees: Anyone can enjoy your event from anywhere across the world.
Cut costs: Avoid unexpected costs attributed to last-minute venue changes, staff recruitment, and travel subsidies.
Save time: Since fewer things are needed to run them, the time needed to organize a virtual or hybrid event is significantly reduced. By not traveling, attendees can even save time as well.
Sponsorship opportunities: Virtual events are much more revenue-optimized these days. Many advertising platforms allow companies to sponsor virtual booths, stages, and speakers.
Set Your Stream Up for Success
Whether you're streaming a corporate presentation, community event, or virtual fundraiser, connecting with your prospective audience in a virtual space is the most important aspect of live stream production. Sparking that initial interest to get them to log on, to keeping them engaged during the stream, and wrapping the show in a way to have them connect with the ask or call to action.
By understanding your audience, you'll be in a great position heading into preproduction to situate the visual aspects of your live stream and decide the topics you'll cover and the guest speakers you'll involve. However, you will need to know more than just your audience to host a successful live stream. You need to consider what your goals and benchmarks are for the success of your event.
For example, do you want the remote audience to have the same in-room experience as people at the event or just offer a window into the event and have the remote attendees be a fly on the wall?
Do you want your remote audience to be able to network with each other, or is the main goal to showcase your brand, organization, or services?
Once you have solidified your goals, you can get ready for set-up.
Setting up a Live Stream
An effective live streaming event requires these three basic components:
Audio/video equipment: This may include anything from your webcam to a professional studio camera and a headset with a mic to professional microphones and headphones. More cameras and mics give you the option of a more dynamic show with different views and angles, all managed by professional video switching gear. In either case, the camera or switcher must have the ability to output the combined audio/video signal, usually via an HDMI or HD-SDI connector.
Encoder: a stand-alone device like the Blackmagic ATEM Mini (pro, extreme, etc.) or a computer that takes the output from the camera(s) and converts it to a format that can be streamed on the internet. Prior to the start of the event, the encoder is configured to send the stream to the desired location via the internet.
Streaming service: Most of us are familiar with YouTube and Facebook as streaming services of choice but there are many more that provide different pros and cons depending on the livestream you are looking to produce. Nonetheless, the service receives the encoded stream from the encoder and makes the stream available to viewers on the internet. Take all of these aspects into consideration when developing your live streaming strategy.
Bonus Tips
Pre-production. This part is often overlooked but can provide so much to your overall production. It includes everything from site checks, to shooting pre-recorded videos to be played during the live stream, custom graphics and slides, to putting together the plan and strategy.
Live Stream Production Team. They are the team responsible for setting up the camera and audio feeds. At The Elite Collective, we look to take the technology stress away from organizers and presenters when it comes to producing a virtual event. We let them focus on more important things like the content.
Finding a Professional Live Streaming Team
When it comes to larger, corporate events, it is better to hire a vendor than do it yourself. Free options do have their benefits, but they're not as reliable as the paid options. In addition, Our goal is to make each show look like a network TV primetime broadcast and not community access, or like a plain Zoom call. We do this by putting our 30 years of combined video production experience behind every project, using the best equipment, latest technology, and talented crew members. So don't risk the success of your event just to shave a few dollars, because the risks definitely outweigh any perceived savings.
Live streaming an event involves many moving parts in order to be a success, but if done right, makes an exceptionally effective marketing tool for you, your brand, or your business. If you are looking for a team of experts to help make your next event a home run, contact The Elite Collective today to get started.